Reveal bead with mesh 9 mm PVC
Material:
PVC (Polyvinylchloride) + polyurethane expansion joint foam + fibre-glass mesh VERTEX
Application:
Reveal bead with mesh 9 mm PVC is used for dilating connections between door or window frames and the ETICS system. During the plaster application of doors and windows frames these openings will not get dirty or demage.
Advantages:
• Joint between the plaster and frames without cracks
• Professional finishing with a high-quality esthetical and functional detail
• Protection of window frames in the application of plaster
Download
Name
Order number
Unit pack
(pcs.)
Unit pack
(m)
Palette
(m)
Palette
(packs)
Mesh overlap
(mm)
Reveal bead with mesh 9 mm PVC/1400

V 583 0

00 004
50
70
2100
30
100
Reveal bead with mesh 9 mm PVC/1600

V 583 0

00 002
50
80
2400
30
100
Reveal bead with mesh 9 mm PVC/2400

V 583 0

00 000
50
120
3600
30
100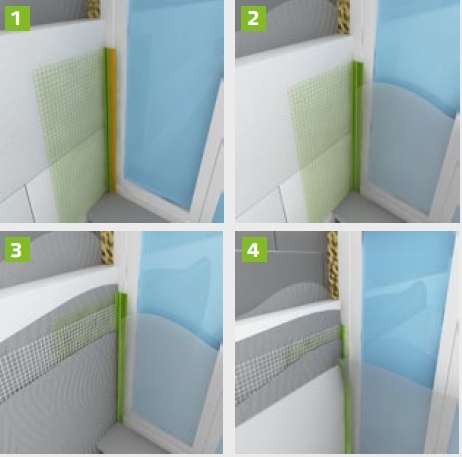 Installation instructions for the reveal beads:
1. Clean the frame from the protective cover, dust and other contaminants. Stick the reveal bead with a foam expansion strips on the frame close to the insulation.
2. On the cover lath stick the protective film to prevent dirt and damage to the frame during the application of reinforcement layers of plaster.
3. Apply reinforcement plaster on the insulation and press the fibreglass mesh into the plaster.
4. After applying the plaster remove the protective foil with a snap-off lath.